The US and Russia are now the dominant actors of the Ukraine war, a stalled, endless war. EuropeforPeace and the International Peace Bureau are launching in June in Vienna a Peace Summit to open a road for a cease-fire and a negotiated solution.
It seems save to say that more than 100.000 people participated in the more than 120 decentralized demonstrations and vigils throughout Italy during the weekend of the first annivesary of the Russian aggression against Ucraina (24-26 February 2023), asking for an immediate ceasefire and the start of peace negotiations under the auspices of the UN or another international organization: "Peace is the only victory we need". Most activities were organized by local supporters of the Europe-For-Peace network comprising catholic groups, unions and civil society organizations active throughout the year in hosting refugees from the war and supplying material aid in convois to the zones of conflict.
National press and TV took almost no notice of the activities, except few exceptions. However, it is by now widely recognized also by the national media that a majority of Italian people does not support the continuation of Italian weapon delivery to Ucraina without contemporous initiatives towards a ceasefire and peace negotiations.
Below, some examples of activities, for which by Sunday, 26 February 2023, 16 h, local reports and video fottage was publically available.
Pistoia
About 800 people participated in the candlelight vigil, which inaugurated a permanent vigil each Friday late afternoon around an olive tree which shall serve as a sign of hope. Good regional press coverage.
A report about other initiatives in Toscana can be found here: https://www.intoscana.it/it/articolo/ucraina-un-anno-di-guerra-catena-umana-intorno-agli-uffizi/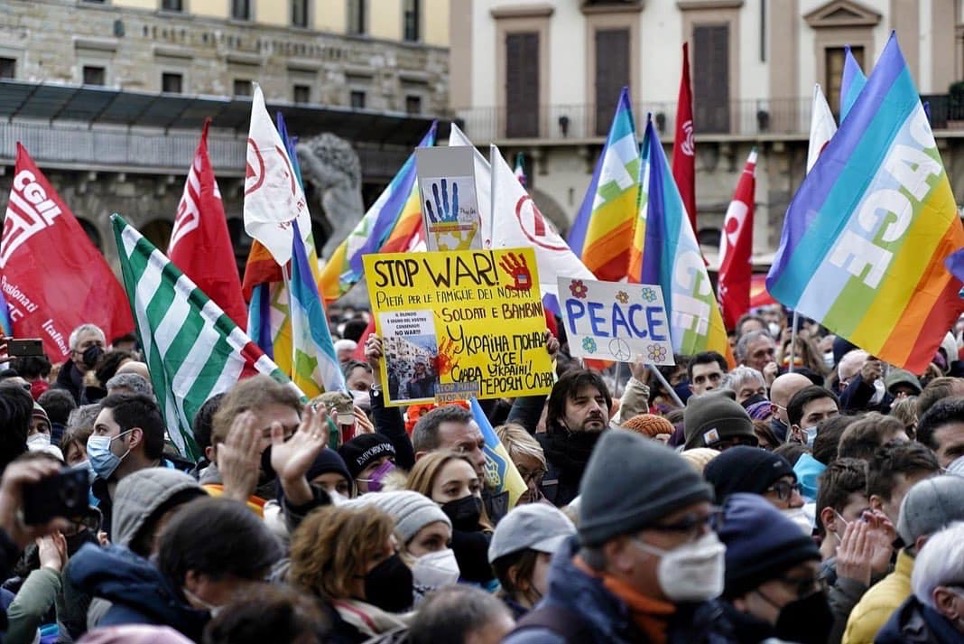 Brescia
More than 1000 people march the streets, together with Kateryna Lanko (Ukrainian Pacifist Movement – Ucraina), Darya Berg (Go by the forest – Russia), Olga Karach (Our House –Bielorussia).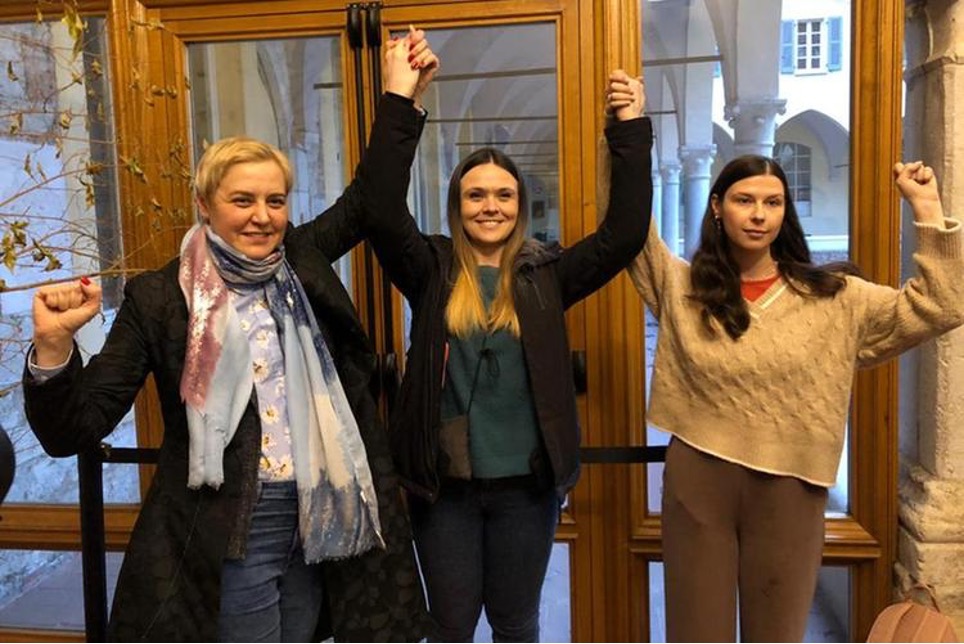 Firenze
Around 2500 people participated in the human chain, which surrounded the world famous Uffici Galleries in the city centre. Good local press coverage.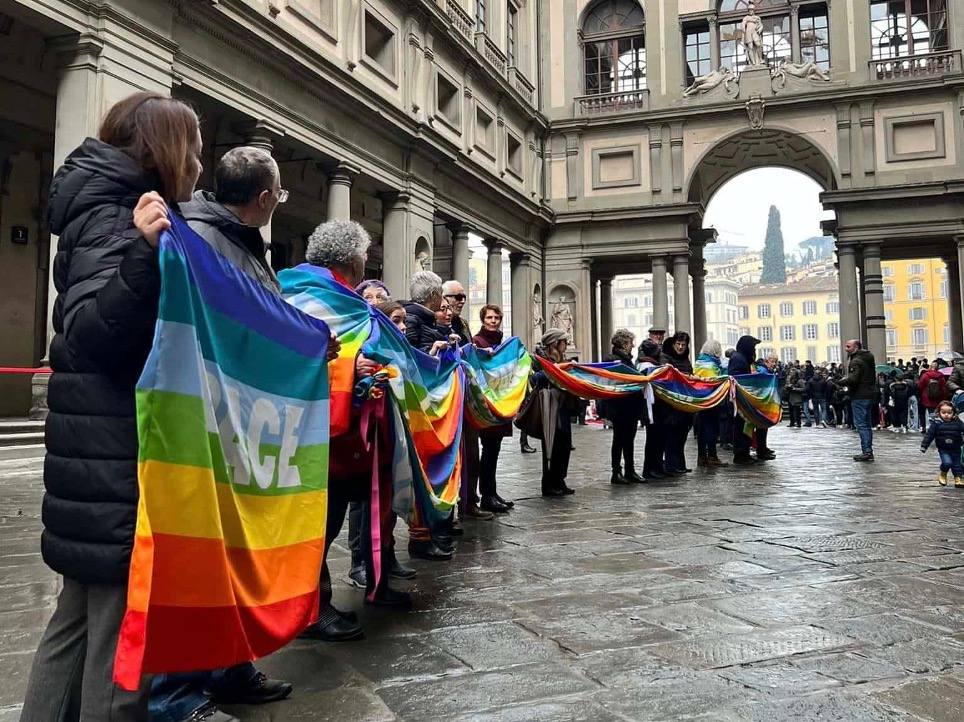 Milano
More than 1000 demonstrators at the biggest of the various initiatives in Milano.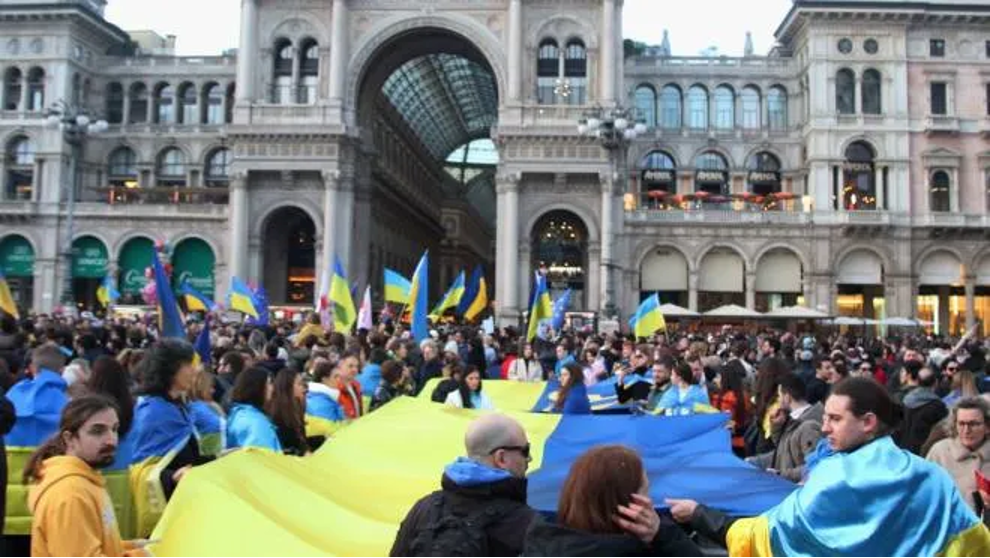 Treviso
Around 500 people in the crowd at the city's central place listening to nobel price winner Lisa Clark. See footage: https://antennatre.medianordest.it/68208/treviso-ucraina-lisa-clark-in-piazza-la-pace-e-sempre-possibile-basta-volerla/
Perugia-Assisi
Around 1000 participants at the night peace march on the 24 km trail between Perugia and Assisi. Attracted also the national media. Here a short video clip: https://www.rainews.it/video/2023/02/corradino—marcia-per-la-pace-perugia-assisi-0e557d6e-bee5-4f06-abc1-7f68c15b1507.html
Asti
Around 800 participants in the local peace demonstration, receiving good local press coverage.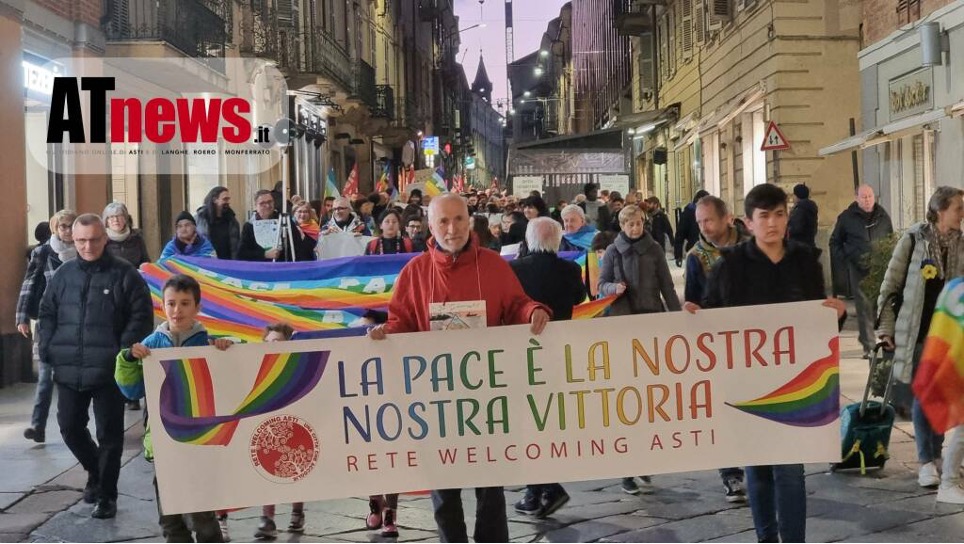 Parma
Some 700 participants, mainly students, at this demonstration, which received also the support of the local administration. Video footage under: https://www.gazzettadiparma.it/servizi-tg/2023/02/24/video/un-anno-di-guerra-in-ucraina-parma-scende-in-piazza-per-invocare-la-pace-video-le-immagini-e-le-interviste-696882/
Bologna
Around 3500 participants. Key addresses by the mayor and the vice-mayor of the city, and the president of the Italian Bishop Conference. Very peaceful demonstration, no incidents. Good local press coverage.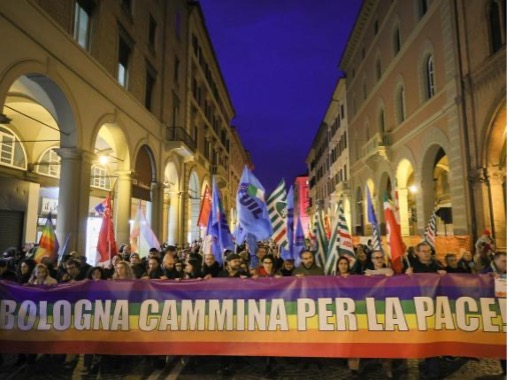 Reggio Emilia
More than 1000 participants in a candle demonstration amply covered by the local press and supported by the local administration.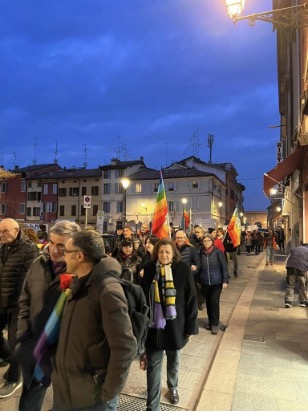 Ivrea
Around 800 participants at the candlelight demonstration, called for by 33 local organizations and supported by town hall. Viedeo footage under: https://www.quotidianocanavese.it/politica/ivrea-fiaccolata-per-la-pace-ad-un-anno-dallo-scoppio-della-guerra-in-ucraina-foto-e-video-43231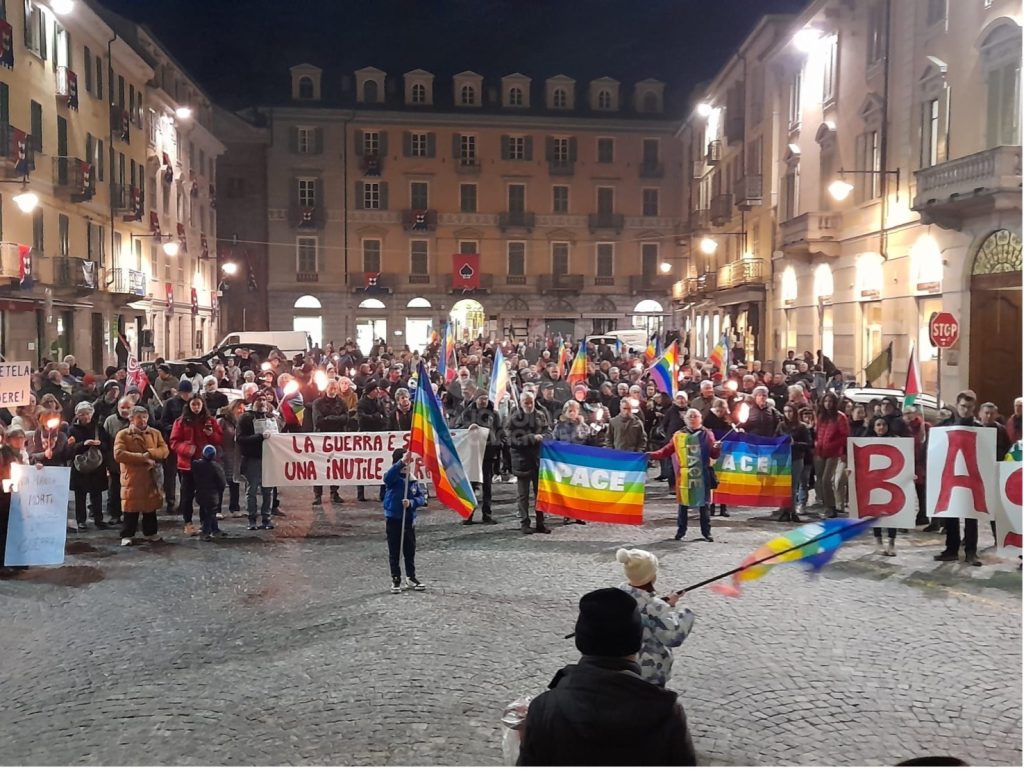 Palermo
Around 10.000 participants, many more than expected, mainly from the 38 schools of the city and the province of Palermo which participated in this activity. The arc-Bishop of the city, Monsignor Corrado Lorefice, critizised strongly the President of the European Commission van der Leyen, who had visited the city two days before: "She did not say one word about peace for the Ukraine. If war is rational, we want to be irrational." Very good coverage in the local press. Here a short video https://palermo.gds.it/video/cronaca/2023/02/24/studenti-in-marcia-per-la-pace-a-palermo-fuori-la-guerra-dalla-storia-737820ee-a196-49e0-a0c6-c143e7111fd4/
Empoli
Around 400 people at the silent candlelight vigil in this city.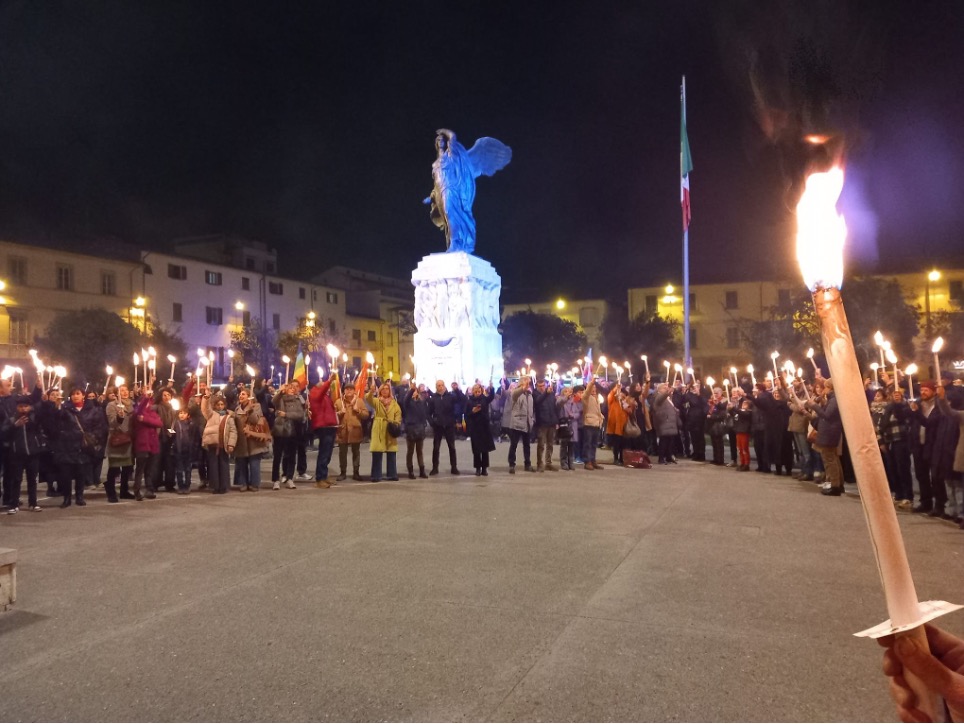 Foggia
Around 800 people at the demonstration which included a human chain. Footage under: https://www.lagazzettadelmezzogiorno.it/video/foggia/1384820/catena-umana-per-la-pace-a-foggia-in-occasione-dell-anniversario-della-guerra-in-ucraina.html
Saronno
Around 100 participants in this little city, mainly women, children and Ukraine refugees.Footage under: https://ilsaronno.it/2023/02/26/saronno-settanta-in-piazza-contro-la-guerra-in-ucraina/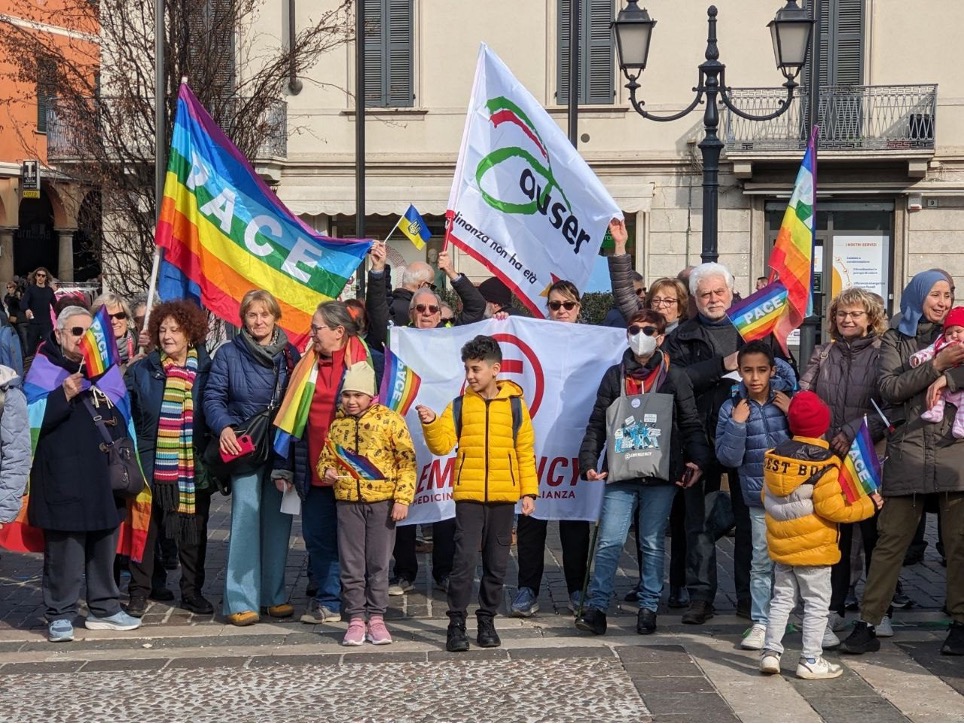 Vicenza
Some 500 participants at the nightly candlelight vigil, mainly organized by local catholic groups, with support by the bishop. Video Footage under: https://www.vicenzatoday.it/attualita/fiaccolata-per-la-pace-in-ucraina-24-febbraio-vicenza.html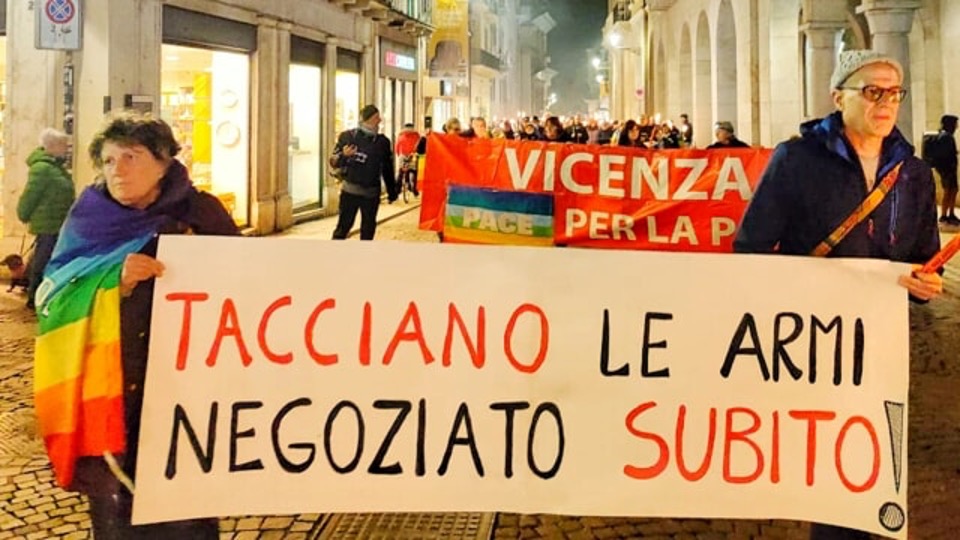 Modena
Around 500 mainly young participants at this demonstration, organized by the "Tam Tam per la Pace". Video footage under: https://www.modenatoday.it/video/fiaccolata-pace-scuole-cittadinanza-corteo-guerra-24-febbraio-2023.html
L'Aquila
Some 300 people carrying an enormous peace flag at this sit-in.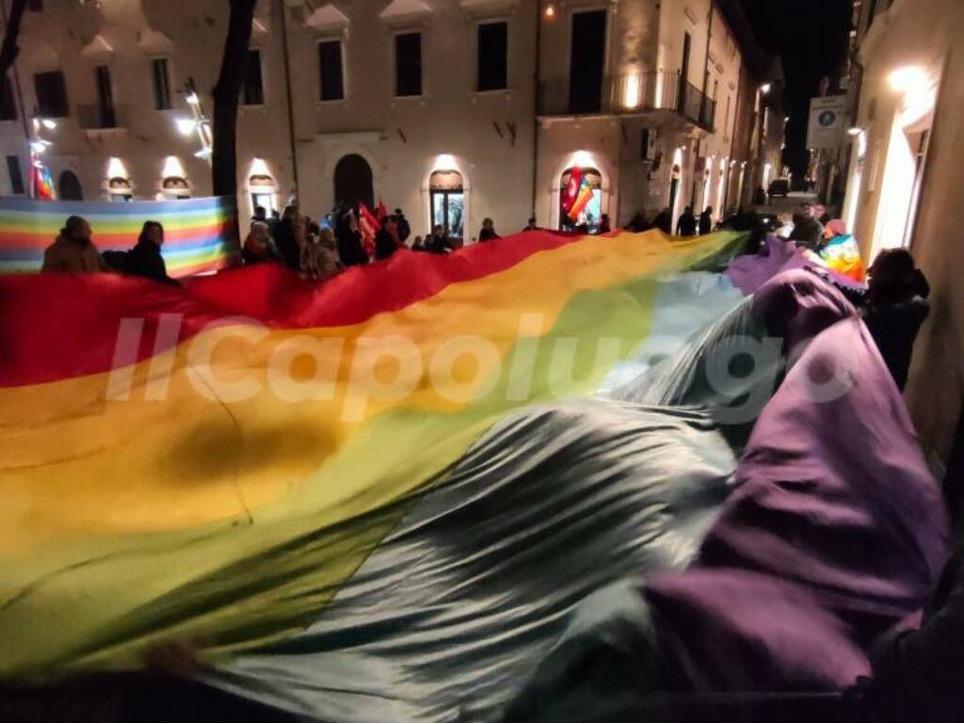 Mantova
Around 1000 participants at the candlelight demonstration. Here some footage in the local press: https://gazzettadimantova.gelocal.it/mantova/cronaca/2023/02/24/news/mantova_saccende_di_fiaccole_di_pace_stop_alla_guerra_un_anno_e_troppo-12661440/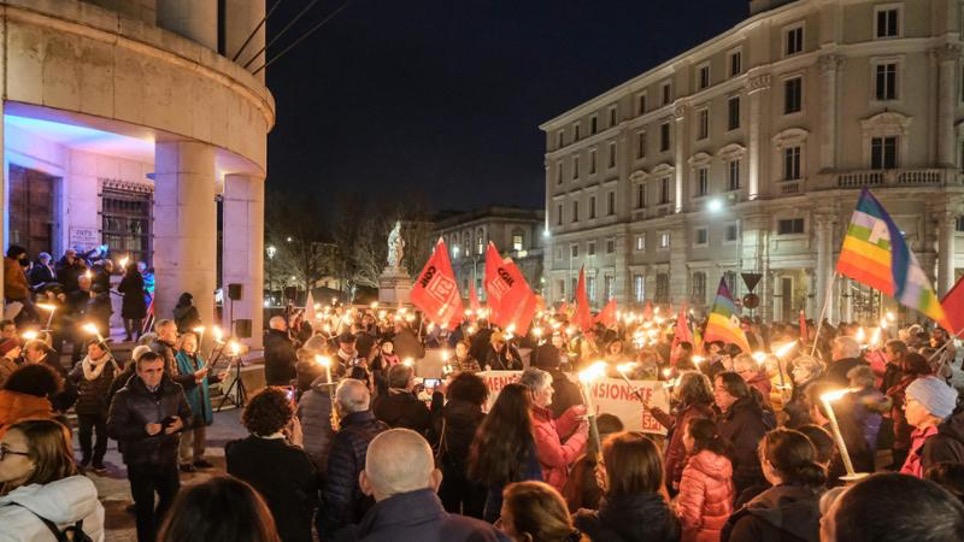 La Spezia
Around 800 participants at the candlelight demonstration in this harbour city. Videofootage under: https://www.ilsecoloxix.it/la-spezia/2023/02/24/video/la_spezia_fiaccolata_in_piazza_per_la_pace_in_ucraina-12661514/
Bolzano
Around 700 people participated in the candlelight gathering in Bolzano.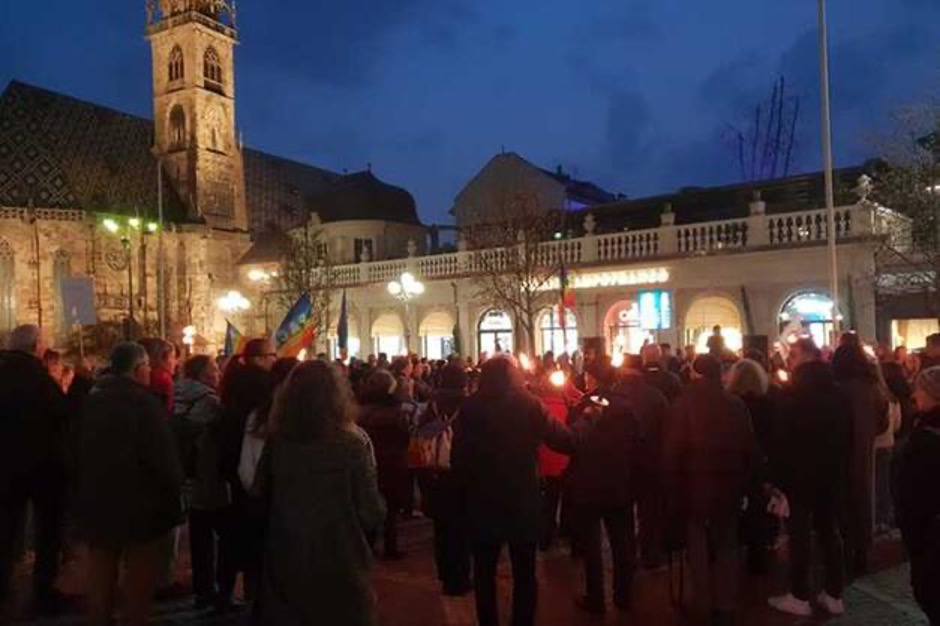 Genova
Around 2000 people participating in a peace march, here some footage: https://www.ilsecoloxix.it/genova/2023/02/24/video/genova_in_piazza_per_la_pace_in_ucraina-12661145/
Roma
Around 3000 participants in the candlelight demonstration arriving at capitol hill, where the demonstrators were addressed by the city mayor. A short picture footage made it into national television the very evening, but without space for any commenting words by the organizers of the demonstration. But the national newspaper "Il Sole 24 Ore" streamed a short videofootage with statements of some of the speakers: https://stream24.ilsole24ore.com/video/italia/ucraina-manifestazione-la-pace-roma-a-rischio-futuro-mondo/AESoMltC
Padova
2500 participants at the candlelight demonstration, a couple of days before the city starts a twinning with the Ukrainian city of Leopolis. Videofootage under: https://www.padovaoggi.it/attualita/duemilacinquecento-piazza-pace-benciolini-annuncia-gemellaggio-leopoli.html
Ferrara
Around 400 participants at the candlelight vigil in Ferrara.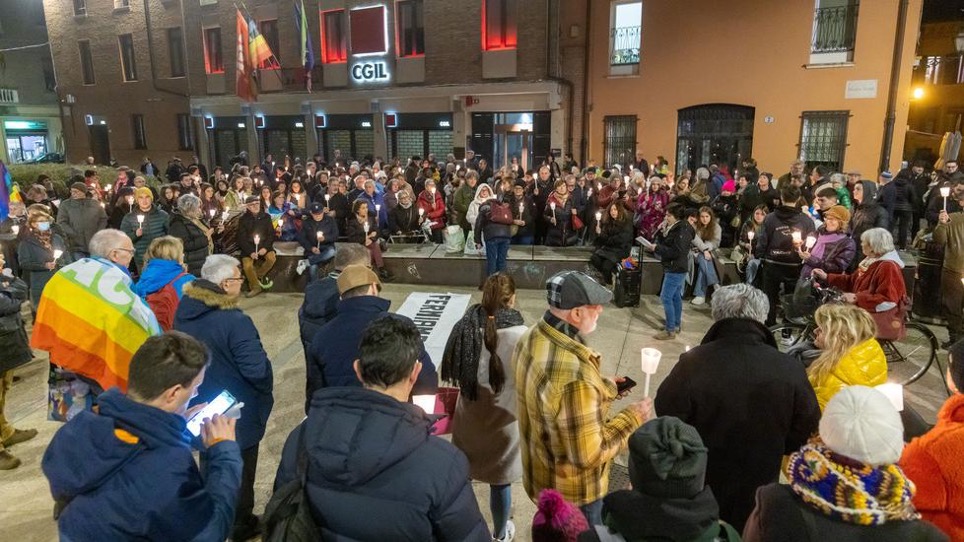 Rimini
More than 1000 protestors took to the streets in Rimini, with candlelights. A very short videofootage under: https://www.chiamamicitta.it/basta-guerra-a-rimini-sfilano-in-mille-video-e-foto/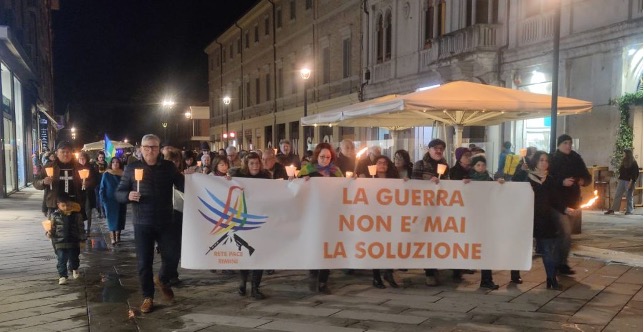 Ancona
500 participants at the regional demonstration of the Marche in Ancona, where also the president of the Ancona Peace University held a speech. Videofootage under: https://etvmarche.it/25/02/2023/un-anno-dalla-guerra-in-ucraina-ad-ancona-la-marcia-per-chiedere-la-pace-video/
Cremona
Around 400 people participated in the gathering on Cremona's central place. Videofootage under: https://www.youtube.com/watch?v=zLncu9fuho8&embeds_euri=https%3A%2F%2Fwww.welfarenetwork.it%2F&feature=emb_rel_pause
Torino
More than 1000 participants demonstrated in Torino, arriving also at the regional headquartes of state television RAI. Videofootage under: https://www.ansa.it/piemonte/videogallery/2023/02/25/ucraina-manifestazione-a-torino-per-la-pace_3b7818b4-ce75-4f6c-af35-5697cf12a253.html
Trento
Around 800 participants in the candlelight demo under the slogan "Peace is the victory we need".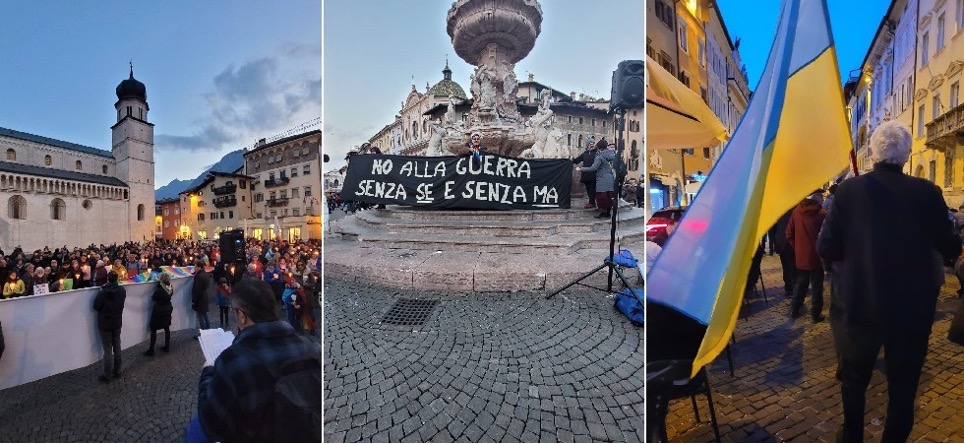 Napoli
Around 2500 people in the biggest of three demonstrations in the city during the weekend, supported by the city council and addressed by the mayor of the city. A footage here: https://www.comune.napoli.it/flex/cm/pages/ServeBLOB.php/L/IT/IDPagina/47391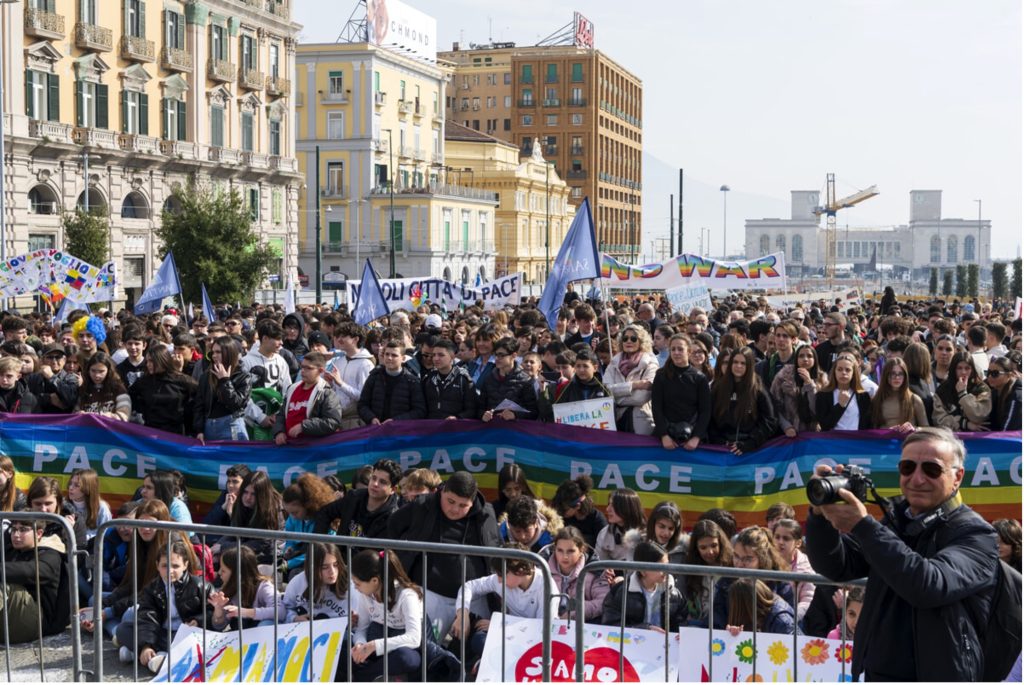 San Gimignano
Some 200 participants, many of them children, at the gathering on this historic city. Videofootage under https://www.radiosienatv.it/san-gimignano-un-presidio-di-pace-ad-un-anno-dallinizio-della-guerra-in-ucraina/
Legnano
Many more than the reported 200 participants at this silent march. Videofootage under: https://www.varesenews.it/2023/02/in-oltre-200-alla-fiaccolata-di-legnano-per-la-pace/1554368/
Caserta
A couple of hundreds participants in a vigil in front of the building of the regional government.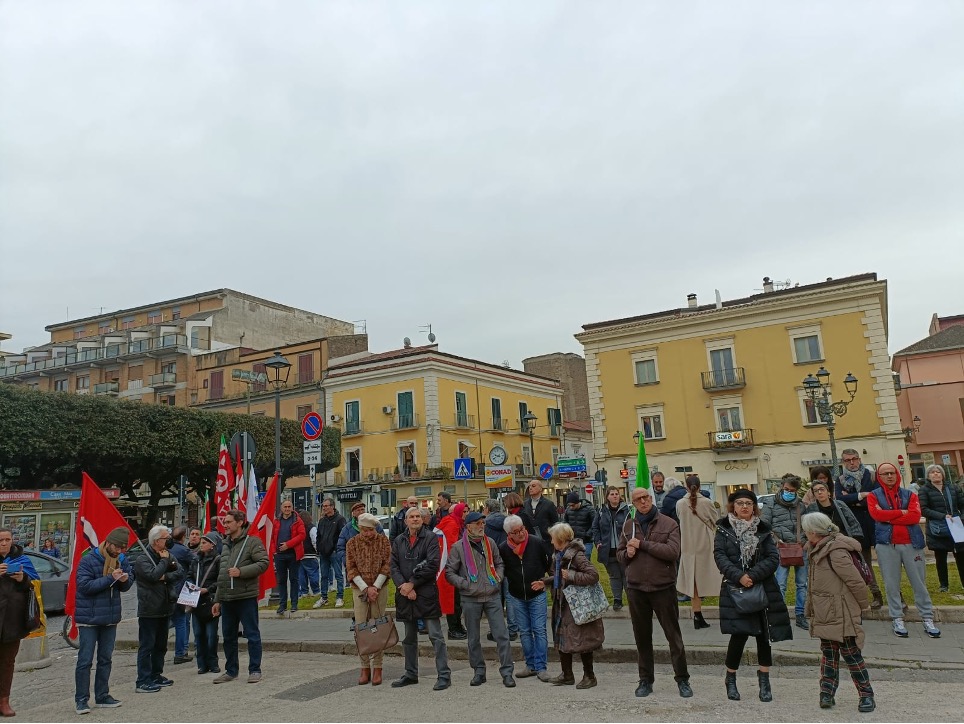 Imola
500 people holding candles and singing "Imagine" of John Lennon and the Italian partisan song "Bella Ciao".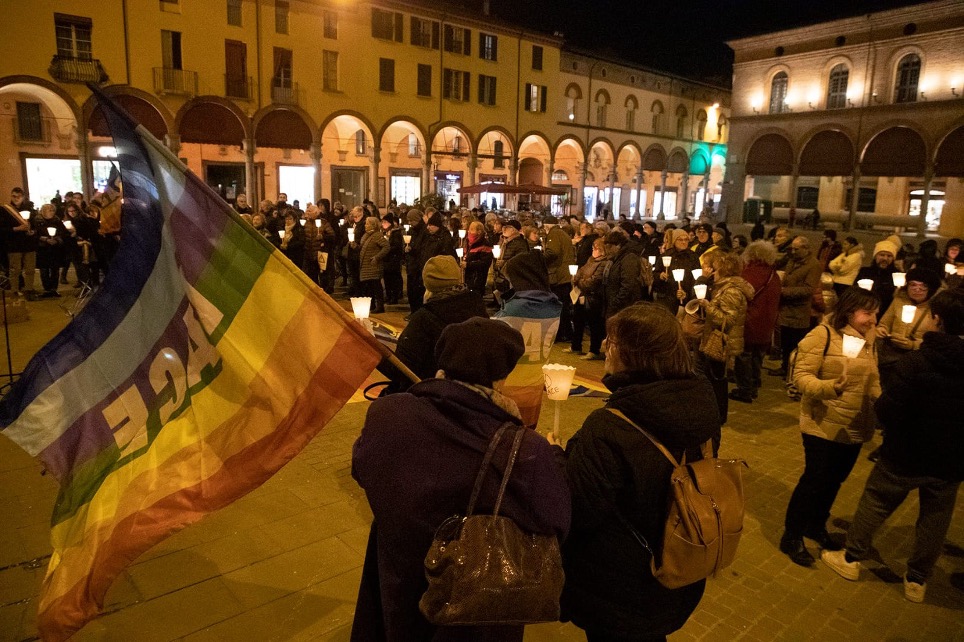 Treviso
A couple of hundred gathered at the coty's central place for a vigil.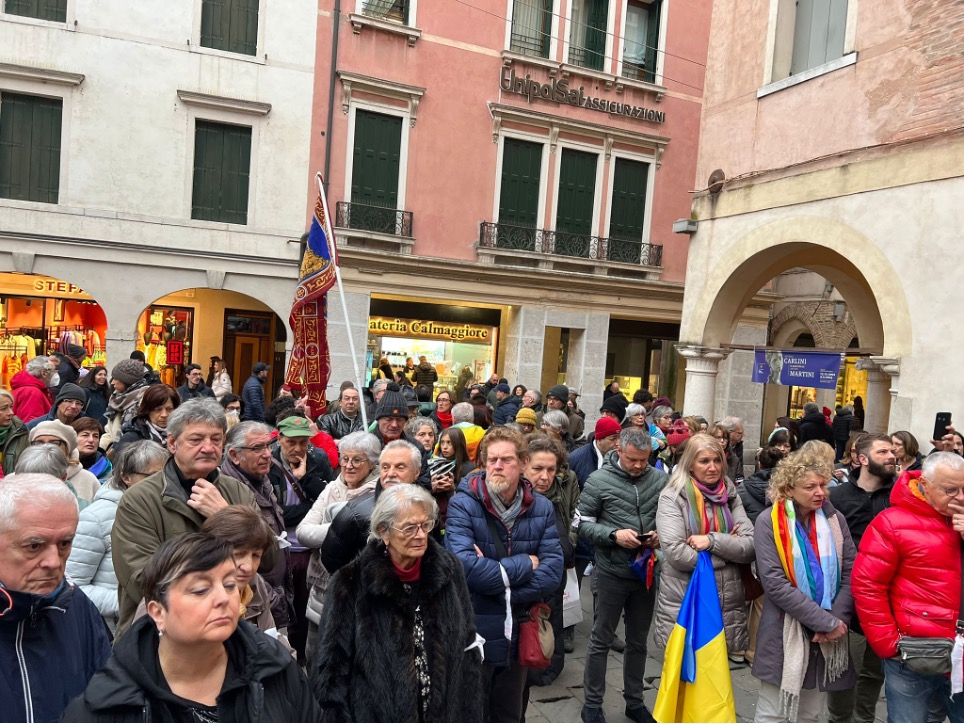 Rimini
Around 300 persons gathered in center city for a candlelight vigil.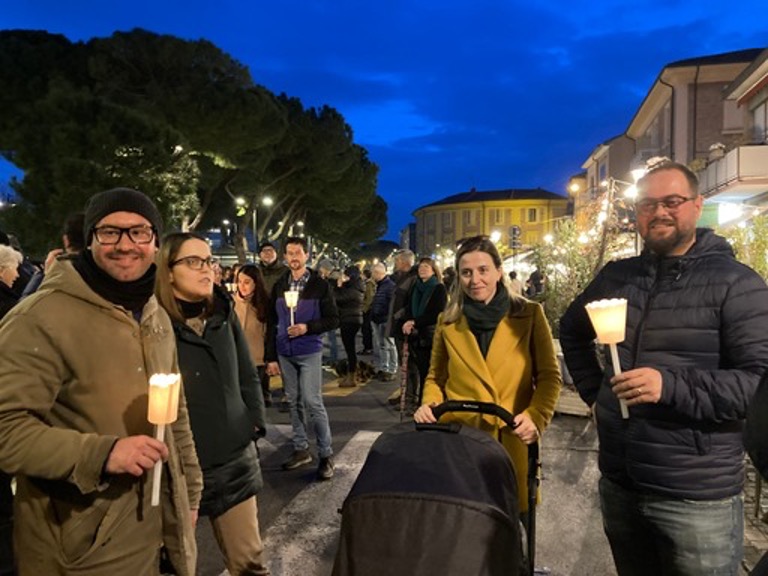 Cremona
300 persons gathered at the Stradivari Place in this historical city.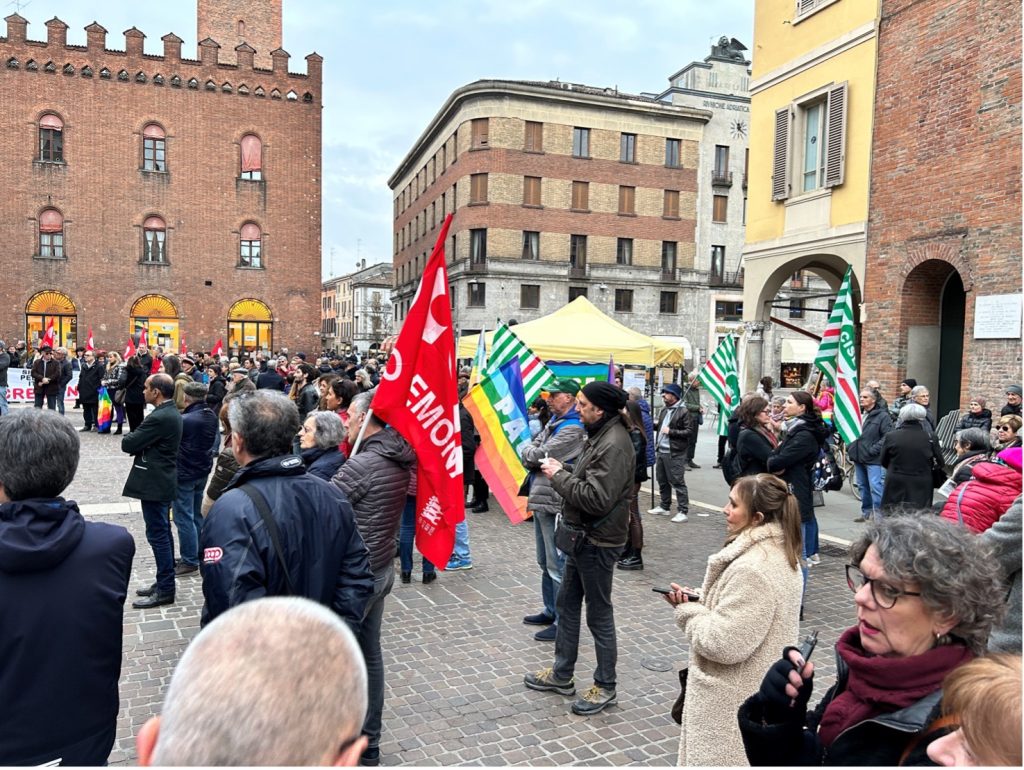 Ancona
A crowd of around 500 people gathered around a huge peace flag.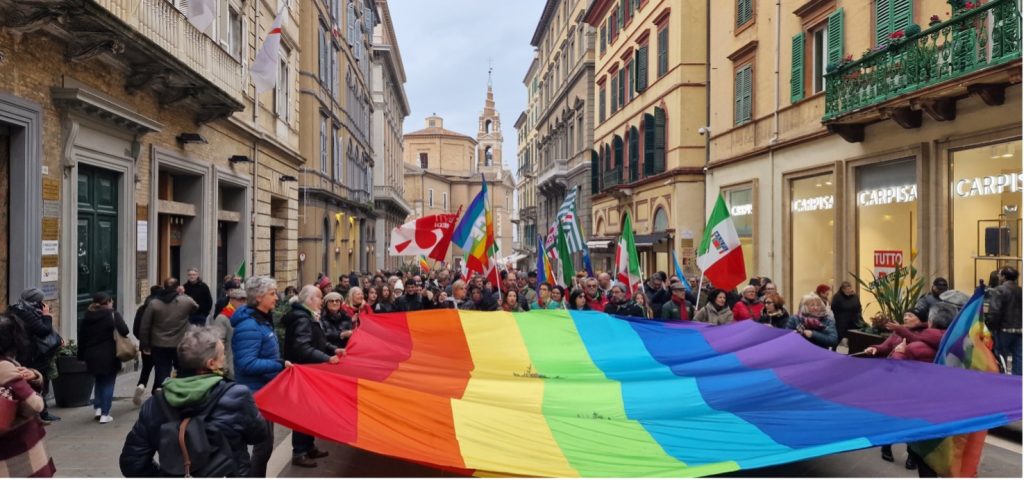 Lecce
A couple of hundred demonstrators.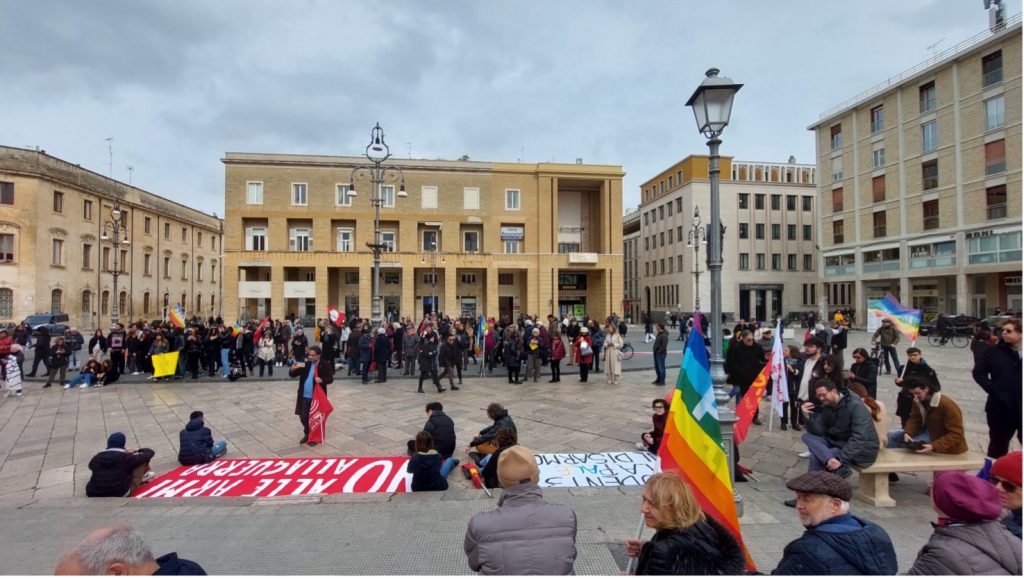 Rovigo
A Flash-mob attracted some 300 people.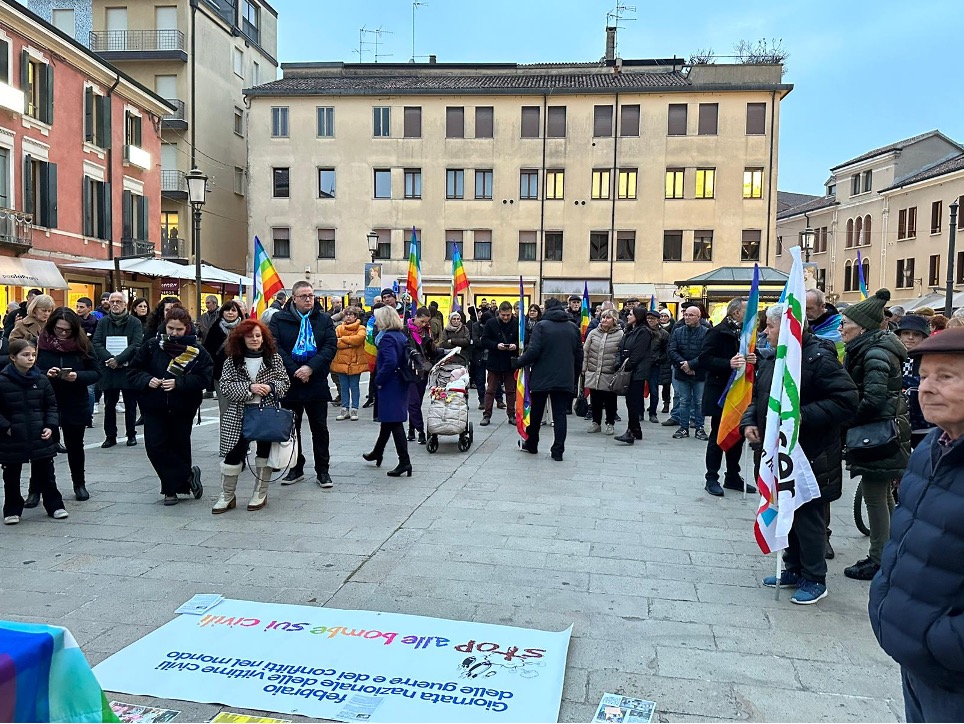 Pistoia
The 1000 participants at the demonstration carried with them an olive tree which was erected at the central place as a permanent memorial for individual messages for peace.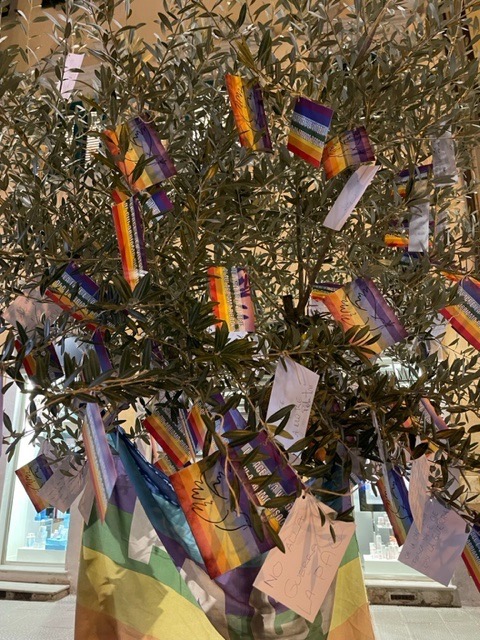 Sondrio and Cavenna
The nightly demonstrations gathered some 300 persons in Sondrio and some 500 paricipants in Cavenna.